Some projects require special attention. The concrete slab may be damaged to the point that it is no longer a good candidate for polishing or conventional stained concrete. Other projects may need special design work, textures, artwork and logos, or other "one-off" types of work. If your project cannot be fulfilled by one of our other three services, you may inquire about custom designs and options.
Slip-resistance can be a significant factor in many commercial concrete projects and some residential installations. Pool decks, ADA-compliant ramps, commercial entry pads, sidewalks, and stair treads all require slip-resistant surfacing. Bel Covo utilizes hybrid polymerized Portland Cement products to create concrete surfaces which are not only slip-resistant but also important design elements for the property.
Some concrete slabs have damage which makes them unsuitable for conventional concrete staining or polishing. In these cases, you may want to consider our custom epoxy resin coatings as an alternative.
Particularly in exterior applications where the look and feel of wood flooring is desirable but impractical due to climate and moisture intrusion, we can create custom wood grain concrete surfaces out of hybrid cement which look like authentic wood flooring but can withstand the elements without damage.
Pricing for custom work is on a per-job or per-piece basis. Please one of our representatives for a quick consultation to establish pricing for your project.
Any custom work should be scheduled at least 30 days in advance, particulary since any custom work would require drawings and/or custom samples. The process of creating designs, building mock-ups, and submitting for submitting for review and approval can take as much as two weeks.
Our custom work can be finished in a variety of textures, colors and patterns and protected with your choice of available clearcoats. The intended use of the space may dictate the appropriate specifications but our sales representatives are a wealth of knowledge and experience and can assist you in making the best overall decision.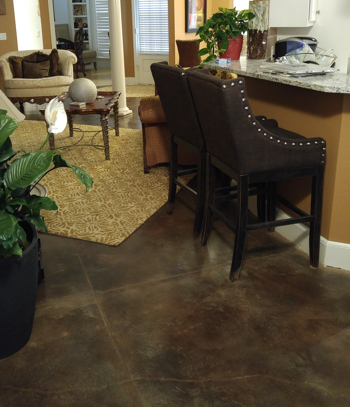 If your design calls for the look of conventional stained concrete flooring but your slab is an unsuitable candidate, we can resurface the cement and create a new slate for staining. In most cases, this resurfaced concrete can be more beautiful than a standard concrete slab ever would. Our process allows us to hide imperfections, damage and repairs, resulting in the look of a new concrete slab.
If your project requires custom artwork, designs or graphics but also needs the durability of a concrete surface, we can provide the design and installation or work from your drawings and/or artwork.
Brick and cobblestone installations can be extremely expensive and costly to maintain. Our professional installers can create the authentic look and feel of brickwork on driveways, porches, patios and interior spaces without the hassle of replacing and cleaning old grout.
It is hard to beat natural stone as a beautiful and durable patio surface. However, installations over existing concrete can be pricey and sometimes impractical due to the added height of the floor surface. Our simulated flagstone adds less than 1/8" of height to an existing slab and can be installed over virtually any competent piece of concrete flatwork.
Sometimes available colors from manufacturers simply will not do. We offer a wide variety of custom coloring options and will be glad to help you arrive at just the right method for your specific needs.